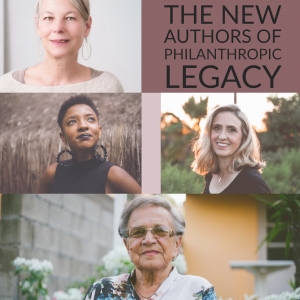 Back in the 1960s and 1970s, as women began to venture into the workforce and become more independent, TV became rife with commercials themed around this newly empowered female persona. It didn't matter what the commercials were selling, the message was clear: women can make a difference in their lives and the lives of others.
For example, Virginia Slims cigarettes ran the tagline "You've come a long way, baby" in their TV commercials (Yes, cigarettes were once advertised on TV). And while we certainly do not recommend anyone smoke cigarettes, the commercials implied that their product represented liberation and freedom for women.
Or, how about the commercial for Enjoli perfume with the actress crooning, "I can bring home the bacon, fry it up in a pan…'cause I'm a woman…" Phew! Women certainly HAVE come a long way since those days and that's a good thing.
Women are entering the world of philanthropy in record numbers
In the past, the world of philanthropy was largely controlled by men. But now, successful, high net worth women have both the personal wealth and desire to get involved in charitable giving in a big way. These statistics on women and wealth may surprise you:
Women have a unique and potent charitable giving style
According to a survey on high net worth women's philanthropy, published by Bank of America Merrill Lynch, there is a real difference in the way men and women (in general) go about giving. The report, which surveyed successful women in 2010 and 2011, claims that single women are 9 percent more likely to give to charity than single men. Additionally, the researchers found that women acting as heads of household not only were more likely to give, but also likely to give twice as much as male heads of household.
In general, the survey found that men tend to donate their gifts to a few organizations, while women tend spread their giving across a much wider range of charities that tackle a number of issues.
Additionally, most women are natural networkers and many find they have no problem connecting with other donors and people with first-hand knowledge about community need and other issues. Since one important aspect of philanthropy involves building relationships — with friends, family, and charitable organizations — the ability to forge lasting bonds with key players is critical to truly making an impact.
It's about making a difference, not about competition
Some frame this surge (which doesn't look to be slowing anytime soon) of women entering philanthropy as a sort of competition to "balance out" the typically male-dominated sector. But they would be wrong. Both men and women bring important and unique skills, knowledge, and intangibles to the charitable giving world. The fact that women are entering and truly making a difference only creates more space for men and women to work together in an effort to help others.