America is experiencing a growing interest in genealogy. There are even TV shows on the subject, and one common theme is that our memory and knowledge of family is fragile. We're lucky if it extends three generations. Do you know your parents' cousins' children?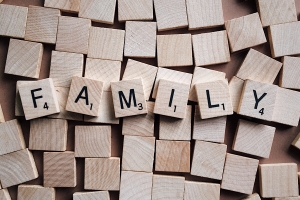 Why is it that family ties so easily come undone?
Part of the answer is the modern world. A hundred years ago you were likely to live in close proximity to your extended family. Today siblings and cousins are more likely to be spread all over the country, the world even.
My wife has five grandnephews and three grandnieces. Who were all born and raised within 25 miles of each other. Their parents stayed at home. The grands are all in their twenties and early thirties now. Two seem to be on the road constantly. Three live in California. Two have moved to different cities in their native state of Ohio, and one lives a mile or so from her parents and her childhood home.
We have annual family reunions and work to involve the grands in a shared family life, but it's not easy. One whole branch has pretty much disappeared. The next generation—two of which have already made their appearance—is going to be even harder to bring together. If our family is to extend through the grands and to their offspring—the great-grands—it's going to take some glue.
I've come to think that glue just might be a donor advised fund. A charitable investment account or reservoir that anyone can set up under the stewardship of a nonprofit organization to which tax-deductible contributions can be made and from which grants can be distributed. The donors and their nominees have the power to recommend grants to their favorite charities on their own timetable
What if my wife and I were to establish a donor advised fund and include the grandnephews and grandnieces in the grant-making process? Their children could in their own time step into the same role. The grands and their children would then share the responsibility of recommending grants. The fund could even grow with future gifts. It could last for generations and be a vehicle for preserving family relationships. Each year or whatever period we choose, they could nominate the charities they are interested in supporting and then discuss the merits of each. With Facetime or Google Hangouts what could be easier?
The fund could have a component to encourage the development of philanthropy in future generations at an early age. The mind of an eight-year-old is a fertile place to plant the values of service and generosity.
Over the generations the fund would never have to grow unwieldy. New donor advised funds could be spun off as needed. We could even pick areas of interest and allow each crop of new advisors to choose where they wanted to participate.
Donor advised funds really could be the glue to hold this family together. Actually, I'm beginning to think of it as superglue!